Market Update – Feb. 9, 2018
"Market Crash, DOW drops below 24,000."
Strange headline. How differently would we feel if we only knew the market price once a year. Allow me to round to the nearest thousand points and the nearest weekly number on the Dow in roughly this week of February going back to 2008.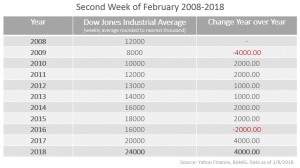 We just officially start our day slightly into a "correction" (10% decline in the market) with yesterday's -1000 point day. We are looking for opportunities to rebalance, as you might imagine, but in no way do we see yesterday or this correction as even remotely unusual, except in this one point: we believe it is based on generally good economic news and the resulting fear that the Federal Reserve may have to raise rates more quickly than forecasted to help control future potential inflation. That "good news" of employment, wages, taxes, earnings, and GDP growth is still good news.
It wasn't so long ago that the predominant fear was deflation. Fear never really goes away, it just migrates. Keep the faith.
I end with a thought about the word "crash." We recently had an employee involved in a crash. You know the two questions that have to be answered: "Are you ok?" (yes) and "how's your car?" (totaled).
It is worth remembering that no market crash, ever, has "totaled the car." It's never even bent the frame.