Meet Damaris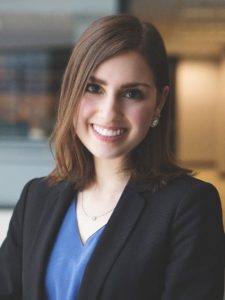 We are pleased to introduce the newest member of the BAMG team, Damaris Wyand!
Damaris is joining Brand Asset Management Group as an Associate in our Operations Department. Her official bio can be read on our website here, but to help you get to know Damaris, we've asked her to share a little about her life…
---
Welcome to the team! Tell us a little bit about yourself and your family.
St. Louis has always been home for me. Born and raised in St. Charles, I was homeschooled through high school and then attended Missouri Baptist University. My growing-up experience was unique in some ways. I am the oldest of four children and the two youngest, now not so young, are adopted from China and Taiwan. This experience gave me a deep appreciation of other cultures from an early age.

Throughout my time at MoBap, I involved myself wherever I could. One of my favorite opportunities was serving as the President of Student Government. From this experience, I gained a lot of clarity regarding my passion for service through administration and really enjoyed working with my executive officers to improve campus life.
When did you first consider a career in Wealth Management? What drew you to this field?
I took Financial Management during my senior year of college, and it really caught my interest. That's when I first began looking into financial advising. I was fortunate enough to have two wonderful internship experiences in Wealth Management (one of them was with BAMG!). It was then that I began to see all the pieces falling into place.

My desire for a blend of art and science fit perfectly alongside the ability to serve, help and teach clients. I believe that helping people to manage their money is one of the most direct ways to have a positive influence on their lives and I feel privileged to be working with a group of people who desire the best for clients and cultivate personal relationships with them that go far beyond the services provided.
Any hobbies or interests that are close to your heart? Where would we find you on a typical weekend?
Two of my passions are culture and music. Music is a hobby of mine that has also turned into a business. I have played the piano for fourteen years and now teach classical piano, as well as accompanying for weddings. I have also traveled pretty extensively – across the US, Europe, Central America and Southeast Asia. Northern Africa is currently on my bucket list of places to visit. Travel intersects with my faith through international missions and I find myself humbled to proclaim God's glory to the nations as the opportunity arises.

On a typical weekend, I am most likely catching up with friends over coffee, at the gym, reading a challenging book or teaching a Sunday school class full of middle school students. I also love the thrill of finding a great deal at a thrift shop and I know from experience that Saturday mornings are the best time to go. Some of my favorite dresses are treasures I have picked up from Goodwill.
---
We are excited to welcome Damaris Wyand to the team and can't wait for you to meet her!
Sincerely,
Brand Asset Management Group