Upcoming Event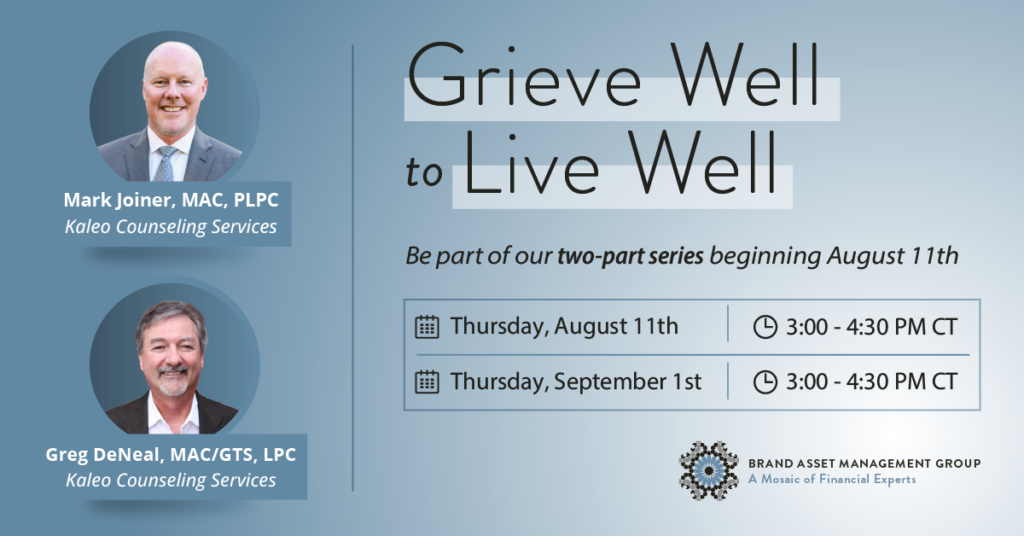 Whether it's the loss of a loved one or the end of a marriage, navigating grief is something that we will all face during our lifetime. But that doesn't make it any easier, and having some guidance for the process can help us heal from a loss, move forward, and discover once again how to live well. If you or someone that you care about is navigating grief, we invite you to attend our two-part series called
Grieve Well to Live Well
. The series will be led by Greg DeNeal and Mark Joiner, counselors at Kaleo Counseling Services with extensive experience in helping people navigate the grief process.
The First Session
The first session is on
Thursday, August 11th
and will focus on "The Basics of Loss & Grief." During this session, Greg and Mark will share:
What grief means—and why it encompasses more dimensions than we may realize
Common misconceptions about grief & loss
Why we should reframe the way we think about grief
The Second Session
On Thursday, September 1, our series continues with the second session, "Healing," in which Greg and Mark will cover:

The 6 Central Needs of Mourning
Why it's important to slow down during the grief process
Developing a new self-identity in the wake of a loss
Where To Go
Both sessions of Grieve Well to Live Well will be held in the Founder's Room at Brand AMG. Our office is located at 16090 Swingley Ridge Road, Suite 620 Chesterfield, Missouri 63017.

Please reach out to our team if you have any questions about this series. We look forward to seeing you at our office on August 11th and September 1st!
---
About the Presenters
Mark Joiner, MAC, PLPC
Kaleo Counseling Services
Mark Joiner has personally experienced the pain of losing a spouse. His wife of 15 years passed away in 2009. He describes being a widower as one of life's most difficult experiences. As a result, he transitioned from a career in sales and IT support to counseling others professionally. He earned his Master's degree in Counseling from Covenant Theological Seminary in 2021. Mark is a Provisional Licensed Professional Counselor (PLPC) and works with individuals and couples in the area of grief, life transition, marital conflict and other relational issues. Mark has since remarried and enjoys spending time with his wife and adult children.

Greg DeNeal, MAC/GTS, LPC
Kaleo Counseling Services

Greg DeNeal is a Licensed Professional Counselor (LPC) in the state of Missouri. He received his MAC in 2005 from Covenant Theological Seminary where he was also conferred a Masters in General Theological Studies in 1999. In 2016 Greg was awarded a Death and Grief Studies Certificate from Alan Wolfelt's Loss and Life Transitions center.
Greg's focus has been in the area of grief and loss counseling as a result of his close personal experience with sudden tragic death. He has been a leader of grief groups, a speaker at numerous grief seminars and a workshop presenter at a National Bereaved Parents conference. Most recently he has spearheaded the formation of The Hope Center for Grief and Life Losses, a division of Kaleo Counseling Services, and has been training counselors in Wolfelt's companioning model. Greg also provides one-on-one counseling for those seeking a path toward integrating the pain of loss into their life.
Fill out the form below to register for this two-part series: