Tuesday, October 4th, 2022 at 11:00 am CT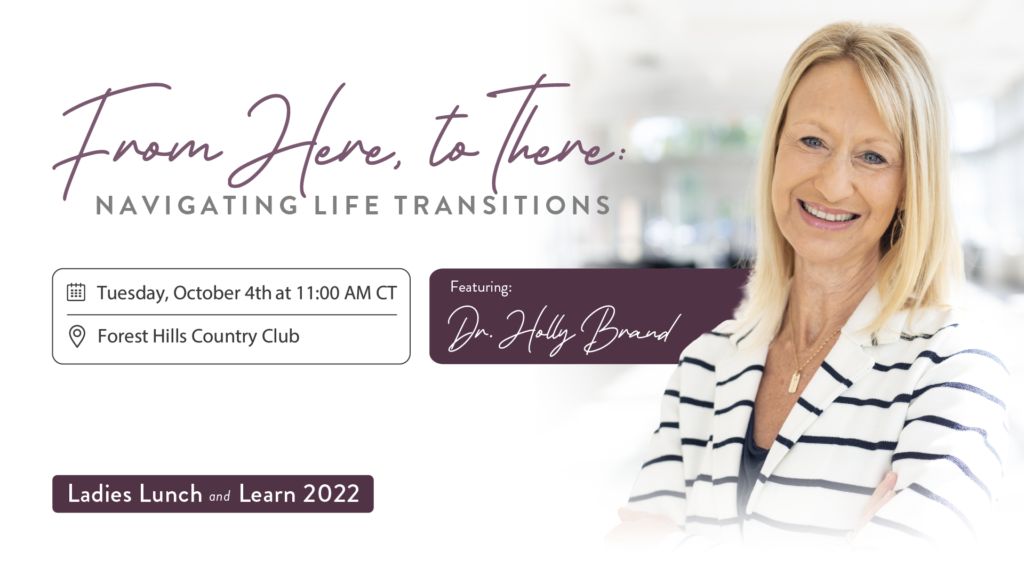 We all will encounter moments of transition within our lives: the birth of our first child or grandchild, the start of a new job, the start of retirement, and the passing of a loved one. How can we move from here to there, while navigating these moments of change? 
These types of questions are the inspiration for our 2022 Ladies Lunch & Learn, which will be hosted by Dr. Holly Brand. We hope you can join us on October 4th for what promises to be an impactful discussion on how we can all make the best decisions and maximize healthy perspective during inevitable change.
Event Details
Date: October 4th, 2022
Time: 11:00 AM – 1:00 PM
Location: Forest Hills Country Club at 36 Forest Club Dr, Chesterfield, MO 63005
Event Menu*
A Fairway Salad, Chicken Salad Croissant or Tuna Salad Croissant
Fresh fruit and homemade chips
Chocolate cheesecake
*If you have dietary restrictions, are vegetarian, or have food allergies, please let us know by sending an email to info@brandamg.com
About the Presenter
Dr. Holly Brand
Psychology Professor, Missouri Baptist University
Dr. Holly Brand is a Professor of psychology at Missouri Baptist University in St. Louis.  Being at MBU and teaching college students is one of her top life blessings and she was recently honored with the "MBU Distinguished Professor of the Year" award. She has a Ph.D. in psychology from Saint Louis University and specializes in the areas of child, teen, and adult development. Holly also engages in many public speaking and writing opportunities.
Holly is married to Todd Brand, president of Brand Asset Management Group. They are blessed with three children, Tanner, Walker, and Tori. As a family they love spending time outdoors, traveling, laughing, and just being active. Together, Holly and Todd enjoy hosting and co-leading their small group bible study. Holly also supports the ministry of Focus on the Family by serving on their board of directors. 
Holly Brand's life vision statement is to inspire by living a life of excellence and equip by teaching the wisdom of God's Word. Anything else is just bonus.
Fill out the form below to RSVP: